Welcome to our blissful sanctuary, where rejuvenation and tranquility merge to offer you an exquisite spa body treatments experience.
Spa Body Treatments
Our Service
Indulge Your Senses with Luxurious Treatments at TruBliss Body Spa
At TruBliss, we take pride in curating a haven of serenity that caters to your body's every need.
Unwind and let your worries melt away as we immerse you in a world of indulgence, where our luxurious body scrub treatments and therapies in Vaughan will nurture your soul and leave you feeling utterly revitalized.
As the aromatic essences infuse your body and senses, you'll be cocooned in warmth, allowing the ingredients to penetrate deeply into your skin - restoring its natural radiance and leaving it velvety-smooth to the touch.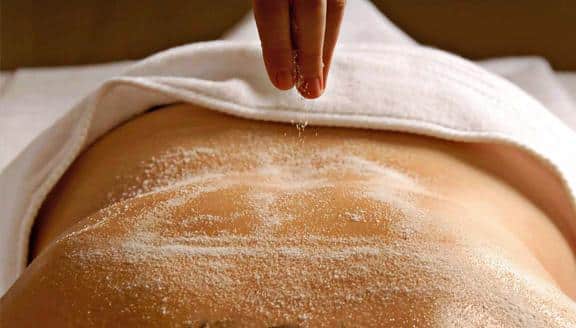 Revel in Radiant Revitalization: Unearth Your Inner Glow with our Exquisite Body Scrubs and Organic Back Facials
Experience true bliss with our range of invigorating body scrubs, meticulously crafted to pamper your skin and reveal its innate luminosity.
Our scrubs blend organic ingredients from nature's bounty, including delicate exfoliating agents, botanical extracts, and essential oils. As the gentle granules work their magic, shedding dullness and impurities, your body will feel exquisitely refreshed, revitalized, and with a newfound silky suppleness. Our skilled aestheticians will perform a customized treatment using organic and natural ingredients, carefully selected to purify, detoxify, and hydrate.
As tension dissipates from your body and your senses surrender to tranquility, our expert hands will work their magic, leaving you feeling luminous, clarified, and utterly rejuvenated.
Embark on a Journey of Serenity and Self-Rejuvenation at TruBliss
From the healing powers of our Stone Crop Body Wraps to the transformative allure of our body scrubs and Organic Back Facials, and soothing massage therapy, every moment spent in our sanctuary is an invitation to reconnect with your inner harmony.
Surrender yourself to the serenity that awaits you at TruBliss, and allow us to elevate your well-being to new heights of blissful contentment.
Treat your skin to this organic, voluptuous scrub that will eliminate dead skin cells, leaving your skin feeling soft, smooth and glowing.  This treatment leaves your body deeply cleansed and the skin soft and hydrated. Also includes a light massage with Organic Body Lotion to finish.
Impart the benefits of our signature stone crop ingredient in a relaxing spa treatment. This restorative gel body wrap contains stone crop, aloe and powerful actives to hydrate, rejuvenate and brighten the look of skin from head to toe. Also includes a light massage with Organic Body Lotion to finish.
The perfect way to target hard-to-reach back acne, clogged pores and dehydrated skin. This treatment includes a deep cleanse, exfoliation and extractions to clear away congestion.
The surface of the skin is constantly reinventing itself, shedding dead cells and producing new ones. Old cells remain on the surface of the skin, dulling its appearance and contributing to blotchy, uneven tones. Exfoliation scrubs are an essential step in loosening and removing those cells, encouraging new cell growth, and increasing blood flow to unveil beautiful skin that is soft and smooth. Seasonal Scents
Dead Sea Salt & Oil
Stone Crop Revitalizing
Coconut Sugar
Cranberry Pomegranet Sugar
This gourmet voluptuous scrub will take you on a journey of pure relaxation. 100% natural products free of sulfates, parabens, formaldehyde, artificial colours, synthetic fragrance, mineral oils, petroleum, or other harsh chemicals. The scrub will eliminate dead skin cells, encourage penetration of the active ingredients and reveal your skin's original softness and glow. After you shower to remove the scrub, the Esthetician will finish your service with the application of lotion bringing harmony to both your body and soul.
Each body wrap will include a full body
exfoliation
We are proud to use Eminence Organics
Wraps. This 100% natural source body care
line offers integrity, transparency, and a
commitment to safety. Eminence Organics
products contain no synthetic preservatives,
no synthetic colours or fragrances, and no
petroleum derivatives.
Chocolate Truffle Body Wrap
Reduce the visible signs of aging
Herbal Cellulite Treatment
Regenerating and toning
Mango Enzyme Body Wrap
Exfoliating body wrap
Elevate Your Spa Experience: Discover Why Our Clients Choose Us for Luxury and Serenity
Our Body Spa Services in Vaughan guarantee exceptional results and care. Please book an appointment today and let our skilled team handle all your needs.
I've been getting massages for over 15 years and this was by far the best deep tissue massage I've received. Their RMT (Welbit) was amazing, focused on the right spots and gave me great suggestions for relieving muscle tension. Moreover, their staff is welcoming and professional. Will definitely go back
LOVE LOVE LOVE this spa! I have been going to TruBliss for almost a year. The 90 minute Eminence Facial and 90 minute Coconut Body Scrub is the best. Highly recommend Katriena. Rosemary is a gem. This place is clean, inviting and has a calming atmosphere. Great service and staff. I would highly recommend TruBliss to anyone. Great experience.
I am so happy I found this spa!! It is a complete gem: the receptionists are amazing and extremely caring and friendly; the place is so relaxing and incredibly clean and welcoming; and my spa therapist: Katerina, is top-notch!! Forget going to other spas- hands down: his place is it!!
I have already booked another facial and massage, and TruBliss is my go-to spa from now on!!
I Love this place! I have been coming here for relaxation messages for years and decided to go for a facial, my 1st Facial in over 20 years! and it was amazing! Diana was so sweet and made me feel like I was on a 5 star vacation, the facilities are so clean and the staff is so welcoming, can't wait to come back again!!!
Amazing service, professional and friendly. Katerina is a great professional and made me very comfortable with my treatments . I've done 4 treatments of laser on the face and I see amazing results already. I recommended my family for laser and they are all happy with there results . Katerina takes ample amount of time on each section on the face. Top of the line machine with excellent customer service, I highly recommend Trubliss to anyone who wants quality service , and profound results!
The team at Trubliss is by far superior to any other spa team I have been at. From the front desk experience, to the cleanliness of the rooms and amenities to the ambiance. The RMT services I receive are by Sineesh who is one of the best RMT's I have ever had. If you are looking for a spa that will treat you like you are the only client they have and provides top level experience at reasonable prices then Trubliss is your go to spa.