We offer the Eminence Organic Skin Care line to our Clients for a truly exquisite experience with products that are so natural that you can see the fresh fruit pulps, seeds, and smell the real herbs. The philosophy is simple and natural, and it fits with the modern need of finding a natural skin care solution. This amazing skin care has Vitamins that are captured in their all-natural fresh base, offering dramatic results as actual seeds, pulps and peels begin the regenerative and healing powers that only nature can produce. You'll quickly notice your fine lines, sun damage and wrinkles melt away as you continue your skin regimen at home with the help of our fabulous skin care providers to help you pick your tailored just for you combination of fabulous products.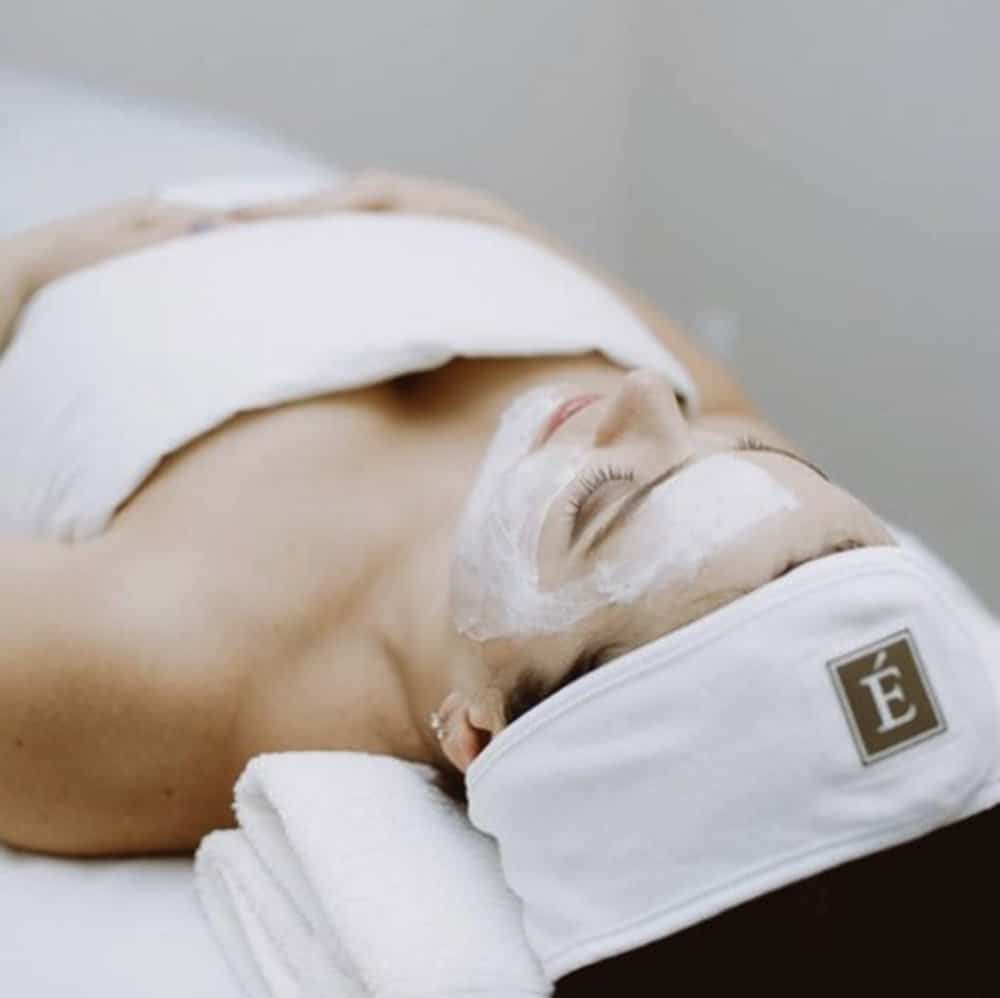 Eminence Organic Facials
Eminence addresses a variety of skin concerns such as premature aging and wrinkling, sun damage, acne, loss of vitality, tone and radiance. This personalized facial is geared towards your specific skin care needs. Choosing this facial allows your experienced Esthetician to create a tailored mixology treatment addressing multiple concerns in one session. Examples include congestion, pigmentation, acne, dehydration and aging skin. This is a multi-targeted treatment facial that will leave your skin feeling refreshed, revived and regenerated.
Price: 60 min $135 / 90 min $155
Fire & Ice Facial
This stimulating facial uses the fresh pulp of apples, grapes and naseberries to exfoliate, while Hungarian paprika significantly increases blood flow. Detoxifying, oxygenating and cellular renewal occurs through a stimulating peel followed by a cooling down mask of cucumber and tea tree. This clinically proven facial will wake up a tired complexion, reduce inflammation, plump up fine lines, reduce wrinkles and leave the skin glowing, toned and rejuvenated. This is a treatment that delivers instant results.
Stone Crop Gentlemen's Facial
This facial is sure to meet the demands from the effects of shaving, the environment and everyday stress. It will detoxify and renew your skin with nutrient-rich microgreens to gently clarify and remove impurities. Stone crop, an exotic succulent which has been used for centuries a first-aid plant, heals irritation, brightens and breathes life into your skin.
Price: 60 min $135 / 90 min $155
RECOMMENDED UPGRADES TO YOUR TRUBLISS FACIALS
Eminence Beautiful Lips Treatment
A special 3-step lip treatment that is completely petroleum and paraben-free. The rich Shea Butter content of Éminence Organic lip treatments will heal the lips and help break the drying cycle of petroleum-based lip products.
Price: $20
Eminence Beautiful Eyes Treatment
Gentle and effective treatment that will complement the results of any Eminence facial treatment, that will minimize fine lines, wrinkles, milia, crow's-feet, puffiness, lack of skin tone, and dark circles.
Price: $20
Hibiscus Ultra Lift Neck & Décolleté Treatment
Elevate your Eminence facial with an Age Corrective Ultra add-on treatment. Featuring firming and lifting hibiscus, botanical peptides and a unique ice wine active, this add-on treatment delivers results in minutes and shows long-lasting improvements over time. Just one treatment will leave you feeling and looking young and refreshed.
Price: $20
Microdermabrasion
Microdermabrasion stands the test of time as an advanced non-invasive exfoliation treatment to reduce the appearance of fine lines, sun damaged skin and hyperpigmentation. Anyone with Rosacea-prone skin, sensitive skin types, and those with active acne or on Accutane medication should avoid microdermabrasion.
Price: 30 min $120 / Cleanse, Microdermabrasion, Mask, Finishing Creams, Sunscreen
Price: 60 min $175 / Includes all of the benefits of Microdermabrasion plus Custom Eminence Organics Facial
MicroNeedling
Promote skin repair and reduce the appearance of wrinkles, scars, stretch marks and other signs of aging with MicroNeedling. Also known as Collagen Induction Therapy. Scientific solution for the most common symptoms of aging.
Price: 60 min $250 / Speak To Your Skin Care Specialist About Customized Packages
The green peel herbal peeling treatment
Exclusively offered by CERTIFIED AESTHETICIANS and doctors
More than 60 years ago, Christine Schrammek provided the foundation for the original GREEN PEEL® Herbal Peeling Treatment which helps people with various skin problems to get a clean and even skin. The basis is a mixture of nine selected herbs containing enzymes, minerals and vitamins, which are massaged into the skin. The Herbal Peeling Treatment was further medically developed and extended by her daughter, the dermatologist Dr. med. Christine Schrammek-Drusio, and is applied today by aestheticians and doctors worldwide. Varying amounts of the herbal plant mixtures allows the GREEN PEEL® Herbal Peeling Treatment to be adapted to individual skin conditions and the personal treatment goals.
GREEN PEEL® Classic
The success of the original GREEN PEEL® Herbal Peeling Treatment Classic for decades speaks for itself. It is the solution for various skin problems in the face and on the body.
These include:
Large-pored, seborrheic skin
Impure skin, sebum cysts
Scars
Skin prone to premature formation of wrinkles with sagging face contours
Sun damaged skin
Anti-Aging prophylaxis
Some forms of hyperpigmentation
Stretch marks
Sagging skin on the body (abdominal wall, upper arms, thighs)
Includes 2 x 75 Minute Treatments
*Green Peel Classic Treatment, plus 5 Day Follow Up Facial *
Includes Home Care Products (Mandatory for best results)
GREEN PEEL® Energy
The vitality and regeneration kick without peeling effect
This treatment with natural herbs noticeably provides energy. It stimulates blood circulation and metabolism and thus leads to a natural improvement of the skin texture without any peeling effect. GREEN PEEL® Energy provides your skin with the natural energy it needs to renew the cells. It helps to reduce age-related skin appearances as well as impurities, scarring and pigment disorders.
The treatment visibly improves the skin's appearance and harmonizes its surface. It works ideally as repeated, intensive salon treatment several times a year.
Includes 1 x 75 Minute Treatment
Home Care Regimen Recommended, however, not included in price