The TruBliss Wellness Team is masterful at providing you with a relaxing and rejuvenating experience…. Unwind and Indulge with any one of our incredible wellness treatments. All therapies have been designed to promote relaxation, rejuvenation, holistic healing and a healthier lifestyle.
TruBliss LOVE YOUR BODY TREATMENTS  
Spa Relaxation Massage
Performed By A Spa Therapist
30 min $55 / 45 min $70 / 60 min $85 / 90 min $120
Add Pure Therapeutic Quality Grade Young Living Essential Oils: $15
Hot Stone Massage
Helps with circulation, soothes and relaxes muscles, helps with hydrating and flushing cells.
60 min $110 / 90 min $145
RMT Massages / Deep Tissue / Wellness / Sports Massage
Performed By A Registered Massage Therapist / RMT Receipt Provided
45 min $90 / 60 min $110 / 90 min $135    Add Cupping to Your Massage: $15
Bamboo Fusion Massage
Bamboo Massage is an innovative way to provide Swedish or deep tissue massage using heated bamboo sticks to roll and knead the tissue deeper to create an extreme sensation of relaxation and well-being. Bamboo Massage began in northeast Thailand as a massage technique centuries ago. The heated bamboo sticks have been found to provide an effective therapy using various shapes and sizes applied to the body along with massage. Performed By A Registered Massage Therapist / RMT Receipt Provided
60 min $135 / 90 min $175
Lymphatic Drainage combined with Hot Stone Massage
Lymphatic drainage therapy is a form of therapeutic massage where the therapist uses light pressure and long gentle rhythmic strokes to increase the flow of the lymph system and reduce toxins in your body. Lymphatic drainage therapy can provide many health benefits including the boosting of the immune system, reduction of water retention, improvement of skin texture, boosting of weight loss and the overall detoxification of the body.
Performed By A Registered Massage Therapist / RMT Receipt Provided
60 min $135 / 90 min $175
Ayurvedic Massage Treatments
The Warm Compress Massage induces deep relaxation, relieves stress and fatigue and boots emotional and physical well being.
The Abhyanga Massage benefits both your nervous and endocrine systems, enhances blood circulation, improves muscle tone, and reduce free radical activity within your body.
60 min $125 / 90 min $145
Foot Scrub and Reflexology Massage
Detoxifies the body, relaxes the system, and stimulates the nervous system. Includes a Herbal Foot Soak and Foot Scrub, Leg and Foot Massage, and Pressure Point Foot Massage
60 min $85
Raindrop Therapy Treatment
Using 9 unique and exquisite Young Living Essential Oils that have been clinically tested to have antiviral, antibacterial, and anti-inflammatory properties, this relaxing treatment helps with tired, tight and chronically painful muscles, digestive system issues, autoimmune issues, supports healing of back injuries, swelling and pain, aids in straightening spinal curvatures, relaxes and releases stress, all while bringing the body's systems back into alignment.
90 min $165
Mindful Meditation + BioMat Treatment
Far Infrared Therapy, customized treatments, includes Aromatherapy, Guided Meditations
30 min $60 / 60 min $80
Smoothing Body Scrub Treatment
Treat your skin to this organic, voluptuous scrub that will eliminate dead skin cells, leaving your skin feeling soft, smooth and glowing. Also includes a relaxing face and scalp massage. This treatment leaves your body deeply cleansed and the skin soft and hydrated. 90 min $175
Indian Head and Scalp Renewal Therapy
Combining the powers of Essential Oils and Indian Head Massage Techniques – with a modern twist, this invigorating treatment focuses on the upper back, décolleté, scalp, and face to ease away tension.  60 min $120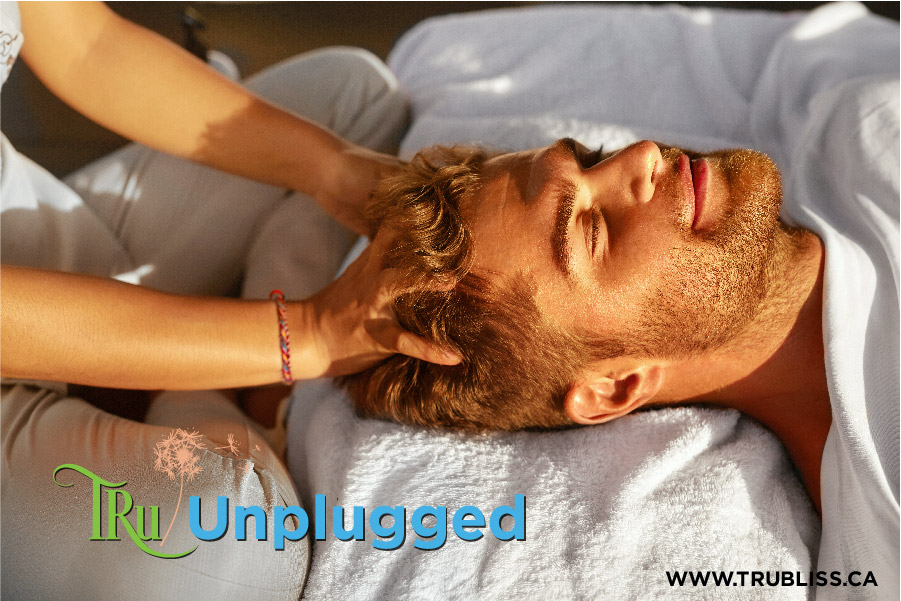 ***
TRUBLISS PACKAGES
With the stresses and pressures of day-to-day life, it doesn't take much to feel off balance and drained of energy. Give yourself, or someone you care for the gift of a TruBliss package. The following are some of our most popular packages. We're happy to customize a package to suit your specific needs.
BlissFul Get A Way
60 Minute Eminence Organic Facial, 30 Minute Spa Relaxation Massage
Approx. 1.5 hours / $165
Soothe Your Soul
60 Minute Ayurvedic Massage, 30 min Eminence Facial, 30 min Indian Head Massage
Approx. 2 hours / $245
Retreat Into Bliss
60 min Eminence Facial, 60 min Body Scrub, 60 min Relaxation Massage, 30 min Hand & Foot Scrub
Approx. 3.5 hours / $395
*Please arrive 15-30 Minutes Prior To Your Reservation So That You Can Complete Your Consultation Card and Relax in our Tranquility Lounge Before Your Spa Experience. We will always try to accomodate any last minute requests, however, late arrival may result in your treatment time being reduced.